Staff
Executive Director: Jordan Sparks, DMD
Research Scientist: Andrew McKenzie, MD, PhD
Lab Technician: Laura Paredes
Office Manager: Nick Hirons
Funeral Director: Larry Black
Company Name
We are currently in a transition from our old name, Oregon Cryonics, to our new name, Oregon Brain Preservation. The mission remains the same as it always has been: the very best possible preservation quality for as many brains as possible.
License
Oregon Cryonics is licensed through the State of Oregon as a Nontransplant Anatomical Research Recovery Organization (NARRO). This license allows us to make use of the Uniform Anatomical Gift Act (UAGA) to legally accept body and tissue donations.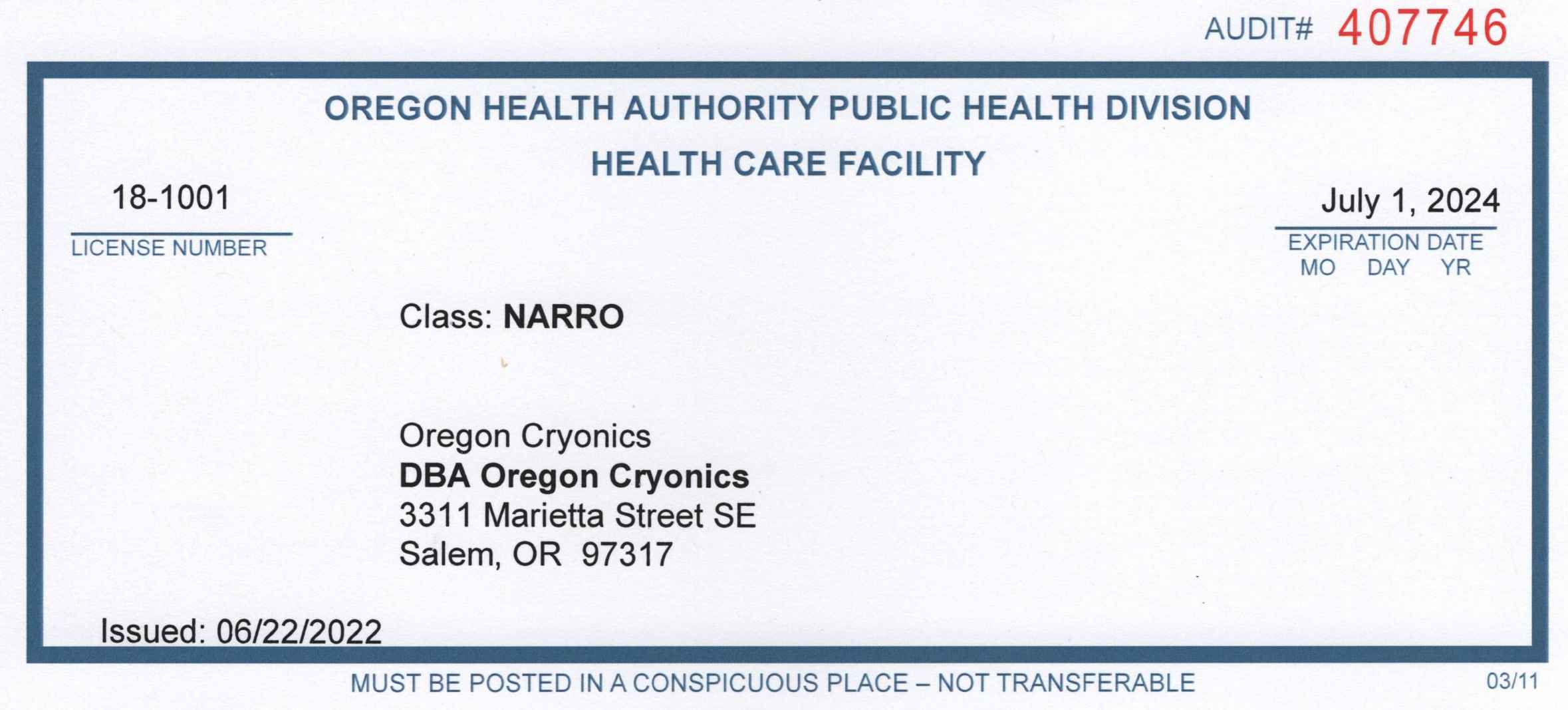 Administrative Rules, OAR 333-081: Oregon Public Health Division
LIcense Information: http://public.health.oregon.gov
Only five companies in Oregon fall under the NARRO regulation. Prior to this law that first took effect in 2014, making use of the UAGA was entirely legal, but not regulated. The term "NARRO" seems to be specific to Oregon, so far. Companies that would fall under the definition of a NARRO exist in most other states, and are part of a thriving industry, primarily serving as hands-on education for surgical skills by medical professionals. Most of these companies are not regulated, yet they serve a well-accepted and important purpose. Some states, such as Florida, have recently passed laws with such high standards that most NARROs from out of state cannot operate in Florida, even for the purpose of picking up a donated body. Those more restrictive regulations have a serious negative impact on cryonics.
Corporate Structure
Oregon Corporation Division Data: egov.sos.state.or.us
Oregon Cryonics was established in 2005 as a Non Profit Mutual Benefit corporation. It is not charitable, public benefit, or tax exempt. It actually operates very similarly to a for-profit corporation, except that the assets are protected from being taken by the director(s). Oregon Cryonics does make a "profit" from time to time, on which it does pay taxes. This "profit" actually represents the accumulation of assets such as the building and equipment.
Manual
Our Manual is publicly available.
Cases
Pet Cases:
Media Coverage